Over one hundred local residents and football fans gathered in Forest Gate on Wednesday for the launch of the Save the Old Spotted Dog campaign.
Fears have been growing for the future of London's oldest senior football ground as Clapton's chief executive Vince McBean attempts to seize personal control of it by liquidating the charity which holds the lease.
However, rather than just watch it happen, all Clapton supporter groups joined forces for a meeting at Durning Hall to plan a course of action.
Representatives of Dulwich Hamlet gave an update and valuable advice on their own struggles keeping their historic stadium out of the clutches of property developers.
There were also fans of Leyton Orient, West Ham United and Waltham Forest offering support and solidarity during the 90-minute meeting.
Forest Gate Labour councillor Mas Patel addressed Durning Hall and both Labour MP Lyn Brown and Labour mayoral candidate Rokhsana Fiaz offered their support and apologies for not being able to make it. Local Lib Dems and Greens were also present.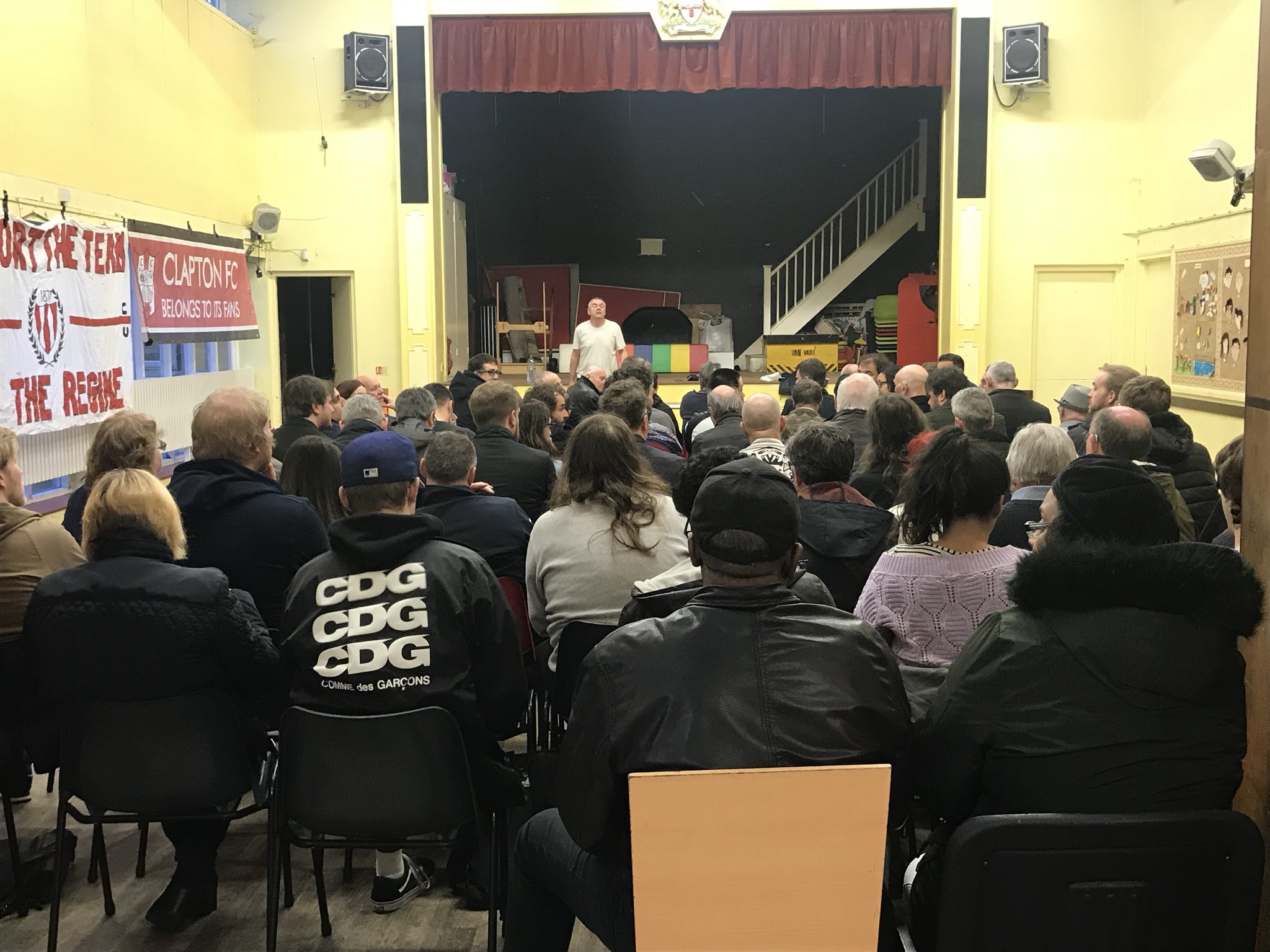 Mr McBean sent a representative to observe proceedings, who insisted that he was neutral, though it has actually emerged that he was the signatory to the attempted liquidation itself.
Regardless, it was a public meeting, and it ended with renewed belief that the Old Spotted Dog could be an invaluable resource and needs to be saved and reclaimed for the community.
The organisers said: "Thanks to everyone who came to the public meeting on Wednesday night to launch our campaign to save the OSD – the turnout was fantastic and the mood was overwhelmingly positive, which has really driven home how important it is that we save the Dog, not just for Clapton fans but for the wider community as well."
After the meeting, a petition was launched to put pressure on Newham Council and the Charity Commission to act. Read the full petition and sign it here.
You can sign up to the mailing list for more information on the campaign and to get involved.
A Twitter account was also launched: @savetheosd