It's Non-League Day this weekend, the annual celebration of football lower down the pyramid.
With no football in the Premier League or Championship due to the international break, it means the spotlight turns to non-league football.

This year everything has fallen perfectly into place. Fans have been boycotting home games, but Clapton have been handed an away game. Hurrah!
And as luck would have it, it's 'away' at Hackney Wick FC, who play at the same ground as Clapton.
Confused? We'll try to explain…
Where and when

The game takes place on Saturday, 7th October 2017 at 3pm.
The venue is the Old Spotted Dog, 212 Upton Lane, Forest Gate, London E7 9NP.

The nearest stations as ever are Plaistow, Forest Gate and Wanstead Park. However, there are some weekend engineering works so check the TFL website.  
If all else fails, it's a 20-25 minute walk from Stratford station or jump on the 25/86 bus or a taxi at the rank outside.

How much does it cost?

Hackney Wick FC's admission prices this season are as follows:

£5 adults
£3 students
Free over 60s
Free under 16s

Where does my money go?
For this game, Hackney Wick FC have pledged to donate half of the match takings to the charity Scope. Bravo!  
Hackney Wick are a merger of a club of that name who played in the Middlesex League, and long-time Old Spotted Dog tenants London Bari. They also have a women's side and eight youth teams.
Do I need to buy a ticket?

No, there are no advance tickets, everyone pays at the turnstiles – in cash, no card! This is non-league football, not the Premier League.

Get there any time from about 2pm. The earlier the better as it should be a big crowd.

Where do I sit or stand?

There is a small seated main stand which fits 100 people only. So if you want a seat, get there early to bagsie one.

Otherwise you can stand anywhere around the ground including grass banks behind both goals.

There is also a covered terrace, recently extended, called the Scaffold. This is the traditional home of the infamous Clapton Ultras.
If you want to join in singing non-stop for 90 minutes, as well as before and after the game, these are the people to seek out and stand alongside.

However, space there is at an absolute premium, so if you are wanting a more chilled experience – a chat with your mates, check your phone, take photos, maybe a bit of a rest from singing, it really is best to stand elsewhere. You'll get a better view too.

Isn't there a boycott?
Yes, for Clapton home games.
At the start of the season, supporters group Real Clapton called for action in the wake of the club's chief executive attempting to liquidate the leaseholding charity that runs the Old Spotted Dog.

With the club's home for nearly 130 years in peril, RC called on fans to donate to a legal fund to try to stop this happening, That matter is currently awaiting a date in the high court. 
They also asked supporters to take the hard step not to go to home games, as their admission fee would essentially be helping to fund the high court attempt to liquidate the OSD.
This call for a home game boycott was supported by the Clapton Ultras and has meant attendances have fallen by 81%. And that's not taking into account the club over-stating attendances massively this season.
In reality virtually no one is paying to go into home games now. So until there is an end to the boycott, this is a rare chance to see Clapton play in front of a packed Old Spotted Dog.
Why does the boycott not apply for this?
Because it's an away game. It's a simple as that.
Real Clapton have only called for a boycott of home games to avoid funding the legal action. Hackney Wick share the ground but are a different entity.
What about the insurance issue on the Old Spotted Dog?
Real Clapton are also concerned that the Old Spotted Dog may not have public liability insurance given it is currently in the hands of a liquidator.
Clapton FC itself insists that it had already automatically been renewed so there is no problem.
It's hard for us to prove either way. We are not insurance experts. So we would just advise people to be careful and be aware of any hazards.
Anything else happening?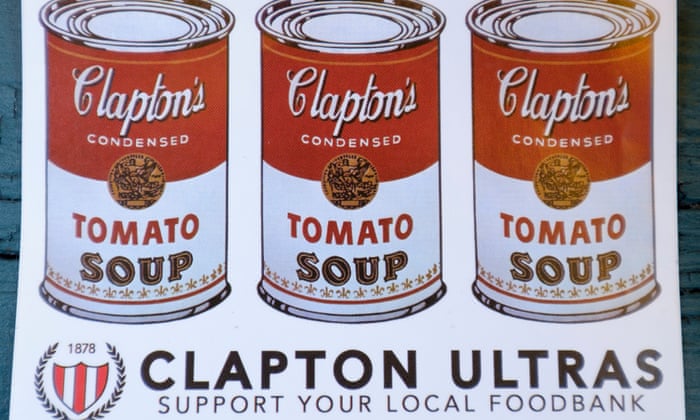 Yes, the Clapton Ultras will be holding on their regular food bank collections for RAMP, based in nearby Manor Park.
This used to take place inside the ground but the Clapton chief executive banned this a year or so ago.
So you will now find the collecting point outside the Old Spotted Dog pub next door to the ground.
The Ultras have requested tinned food ONLY for this one.
Meanwhile, Hackney Wick say there'll be various activities, including a crossbar challenge, raffle, penalty shootout and correct score challenge.